What an inspiration! A man who followed his dreams and made the first floral nectar wine that captures the taste of a landscape in a glass.
Mendoza Gabriel got inspired by  a dreamy yearlong trip which took the charismatic young Mendocino to every corner of the globe. Wherever he went he was struck by the incredible diversity of eating and drinking habits, and also by the constant presence of flowers. From Sumatra, New Zealand and the Pacific Islands to Morocco and the Netherlands, each place had unique flowers which perfectly suited local soils and weather conditions. Enchanted by cultures that saw flowers as more than mere decoration, he made it his mission to sample unfamiliar drinks and exotic foods wherever he went.
Back home Mendoza Gabriel realised that he didn't want to send out his C.V. and start hunting for another job: "I wanted to fight for my dreams to make them come true."  There was just one little problem. He didn't know what his dreams were. All he knew was that flowers were important.
After some reflection he realises that he wanted to make wine, but not wine as we know it. Just like the bees, he would harvest nectar from wildflowers growing in the Andean foothills and transform it into something wonderful. That wonderful would be Argentina's very first flower nectar wine.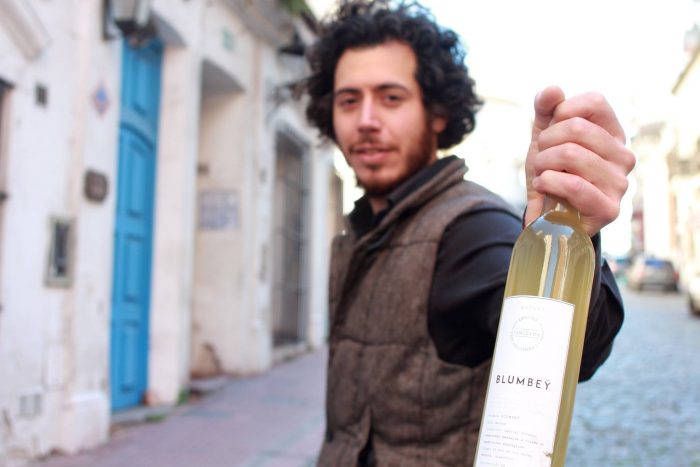 "I wanted to find a way to connect the landscape with a person through a glass, in a way that would respect nature", explains Gabriel.
In homage to Amsterdam's beautiful Bloemenmarkt flower market which helped inspire him, he gave his dream the name Blumbeÿ after the Dutch words for flower and bee. There are currently two wines, a dry Nature and a sweet Dulce Natural. Both sing with sensual floral aromas like exquisite edible perfumes. The Nature has notes of jasmine, chamomile, and grapefruit, while the more delicate aromas of the Dulce Natural remind of roses, dried peaches, honey, and dates. Both Blumbeÿ wines are incredibly easy to drink on their own, but they also pair well with a huge range of dishes. The dry Nature wine complements everything from octopus and marinated chicken to spicy Thai dishes and pork gyoza, while the sweeter wine is a natural fit for dessert addicts.
For those of you eager to get your hands on some, Aramburu in Buenos Aires is currently the only place where you can sample this remarkable creation. The restaurant will be serving Blumbeÿ as part of its new tasting menu, but since there's limited quantities you'd be wise to go soon. The rest of you will just have to make do with chilled Villavicencio and a generous spritz of Flowerbomb.
Read the original article at The Argentina Independent