We have found it! The ideal and most personal gift you can imagine: an Orchid.
You probably know that the Orchid is an unique and versatile flower, but did you know that there is an appropriate Orchid for every personality? There are as many as 25,000 species that are able to show who your are, because of the almost infinite variety of colours and sizes.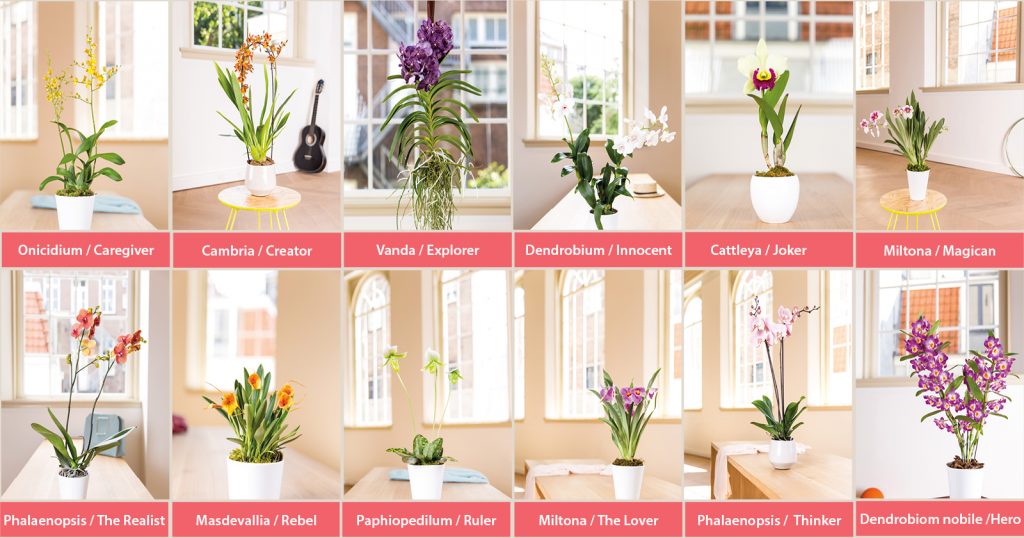 A yellow Onicidium fits caring, generous and angelic people who are always there for others and the orange Cambria fits creative and innovative people.
The exotic and unusual flowers of the purple Vanda, make this variety a suitable gift for explorers who are always looking for unique things. For dreamy, brave and innocent types is a white Dendrobium more than suitable. On the other hand the colourful Cattley is the ideal gift for the Joker and the charismatic pink and white Miltona for a magican personality type.
If your friend is a reliable realist you should give her a calm or even biological Phalaenopsis. Is she more of a rebellious type that wants everything a little different? Pick an orchid with popping or diviating colours such as bright orange Masdevallia. To prevailing types who want everything grand and impressive a Paphiodelium with large flowers is ideal. Romantic, sultry types will fall for a pink Miltonia, for example, and serious, solid thinkers probably fall in love with an old pink phalaenopsis. Of course you honour real heroes and protectors with a Dendrobiom nobile.
For every personality you can find an appropriate orchid and this was only a small selection. The nice thing is that you can take a test at orchitypes.eu to find out what's the perfect Orchid for you or your best friend.
Pictures: The art of life