Every season has his own trends, this also applies to the garden. Thejoyofplants.co.uk has spotted four trends this year that differ like day and night. From sizzling colour or a fairy tale garden to natural nonchalance or light and luxury.
Garden trend 1: Summerparty with sizzling colours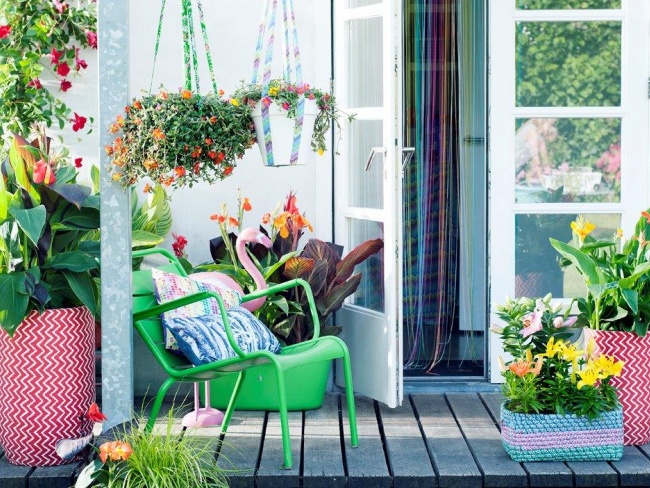 In this trend bright colours, distinctive designs, loud patterns – which create an exuberant and energetic garden mood.  It's all about colours, so paint a said garden bench an eye-popping colour and hang brightly coloured pots in trees and off the pergola.  You can cheer up a dull wall with a tarpaulin with geometric shapes.
Bold and varied colours
Everything is allowed. That's the motto of this trend. Red, blue and green play the leading role, and are combined with black, white and contrasting pastels. The trick is to ensure strong contrasts: pastel flowers are given a pot in a primary colour as a base and vice versa.
Exotic plants
The right plants make you feel like being in a jungle.  Think of  The broad, shiny leaves and exotic flowers of Canna fit perfectly with this trend. Also, purslane is an ideal match. A host of shiny green leaves – as well as fantastic bright flowers and colours including hot pink, sunny orange and canary yellow – and easy to look after too: place it in a colourful pot to make a hot statement. Also, a right fit for this trend is the Mandevilla. This profuse summer bloomer is available in white, pink and bright red and because of this, can hold its own in a brightly patterned pot.
The trick is to boldly combine native plants with exotics. For example, Geranium looks very jolly in a hanging basket with Mandevilla for company.
Garden trend 2: Fairytale garden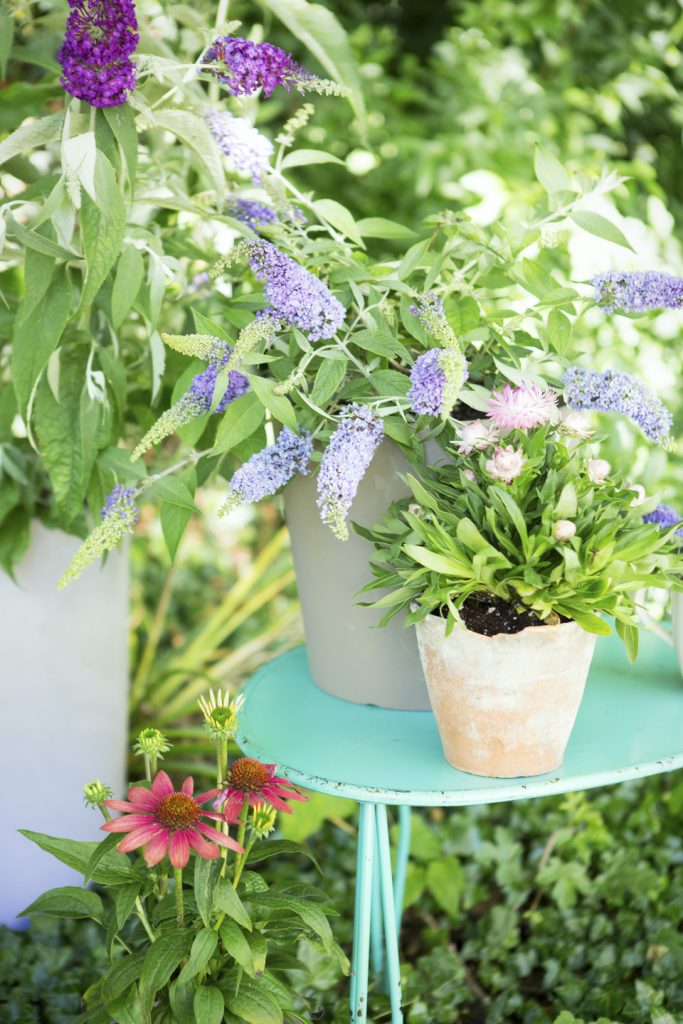 Do you want to enjoy your garden on lovely summer days and wandering around it? Then is this, maintenance free (!) style trend a perfect match! You save yourself huge amounts of work and create an environment that allows you to stretch the boundaries between fantasy and reality, by allowing your plants a bit of freedom as well. Think of natural ponds where water plants and marginal plants merge, and try leaving the moss between the paving stones instead of removing it: it looks great and is a lot less hassle.
Romantic plants
The fairy tale atmosphere is created by lush garden that's the result of this and you could accentuate this with romantic roses. For the better sleeping beauty effect, you could consider a mini-rosarium in which you combine a standard rose with some sizeable pot roses.
Arch shapes and frames lend more depth to your garden. The elegant hanging flowers of Butterfly bushes planted opposite or beside one another form a blooming arch to walk underneath as the butterflies dance around you. The voluminous panicle hydrangea is also recommended for framing. The plumes create slight movement in your sight-line, and by placing it a little higher and hanging a garden mirror behind it you can really fool the eye.
A dream garden which speaks to the imagination can also accommodate plants with red foliage such as Virginia creeper, or perhaps a large foliage begonia, Japanese maple or Heuchera. Amidst all that colour a panicle hydrangea emerges serenely from the soil like a fairy. Your pots can be shiny and have colour-changing effects – think of surprising shapes like a stool that resembles a wooden mushroom and containers with splashes and water rings. Place a trendy fire bowl on the patio for a fairy tale effect and then make a wish under a sparkling canopy of stars.
Mysterious colours
Combine red foliage with dark blue and green, and use pink and lilac accents as highlights. By creating contrast – for example a dark red rose in a forest green pot – you can create attractive visual tension.
Garden trend 3: Natural nonchalance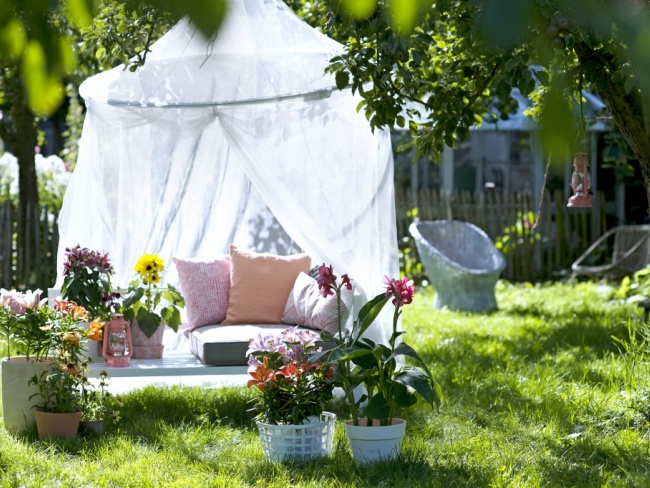 In this natural style nature gets a free hand, weeds are reassessed and given their rightful place among other plants. Because it's just beautiful most of the time,  and it's adored by animals and insects and the main reason: in nature there is no weed. The good news is that it requires less raking and weeding, leaving more time to enjoy your garden.
Harmony and natural colours
The circle is the leading shape in this style, in the form of circular borders, circular patios, circular ponds and circular garden furniture. The shapes in this style are calm and clear. Choose materials with a natural look (wood, ceramic, stone) and make it new and more exciting with mixed materials such as plastic with a wicker core or plastic pots with transparent leaf patterns. In the colour chart for this summer trend, white and green play the main role alongside cheerful natural colours such as red, orange, terracotta, marsala and a hint of lilac, as if the palette has been kissed by nature.
Summer flowering plants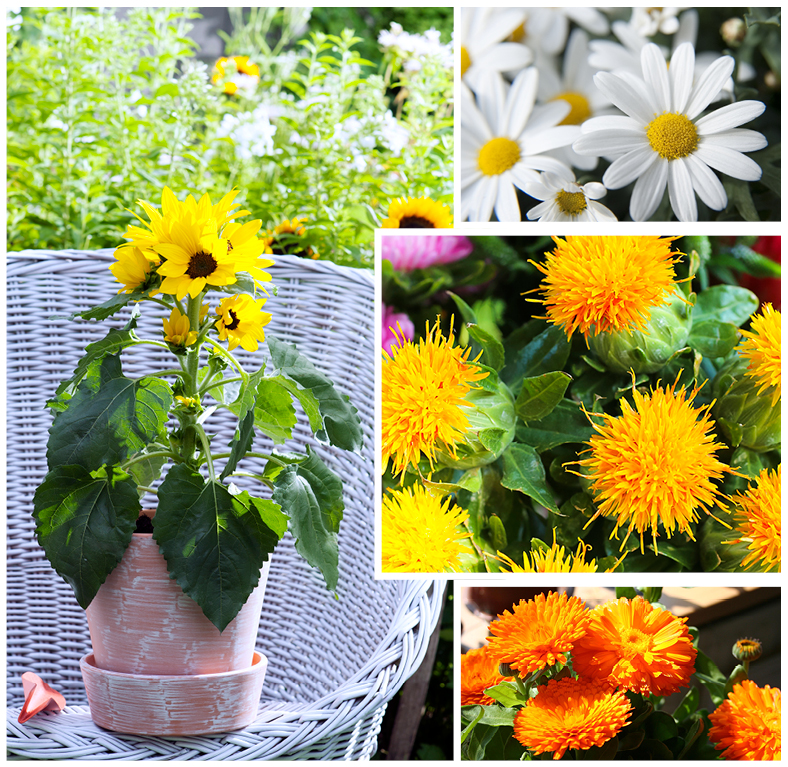 If you want to spend the summer in a garden full of harmony, create coherence with plants of the same species or the same colours. Flowers such as the coneflower and the lily give a beautifully balanced look. One great way of creating harmony is to put different types of one plant together: the sunflower looks fantastic with yellow cousins such as the aster, English marigold and daisy and coneflowers combine beautifully with other prairie plants such as ornamental grasses, Verbena and sage.
Garden trend 4: light, air & luxury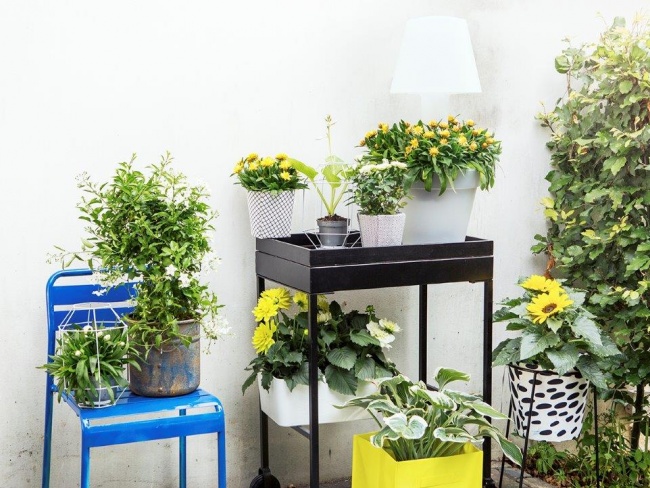 This summer, make optimum use of your garden's vertical lines with tall sunflowers and open structures that give you room to breathe.
Geometric shapes in the garden ensure a modern, luxurious atmosphere and help smooth the transition from indoors to outdoors. An understated veranda with straight lines is a good example of this, as is a raised border attached to a square platform over a rectangular pond. Or how about a large frame in the form of a climbing frame as an alternative pergola which provides shade for a large part of your patio? It can also be as simple as laying a path with large rectangular slabs between which you allow thick strip of grass to grow. Or remove a couple of slabs from the patio and seed the gaps you've created – anything to use the available space slightly differently.
Contrasting Colours
White and black are the most important colours for this style, supplemented with yellow, cobalt blue, red and green. Combine them with soft grey and natural brown in order to soften the look. The materials for this style are smooth and functional, such as metal, wood and plastic, sanded smooth and starkly lacquered.
Plants as guides
Plants play a guiding role in the style: they focus attention and reinforce the new use of the garden space. They have powerful shapes and colours, such as the sunflower and the Jerusalem Cherry. Reinforce the effect by using triangular pots and trapezium shapes. To soften the stark line somewhat, allow potato vine to wind its way merrily around trellises and posts. For an element of surprise, choose the strawflower: it's not only available in colours that you didn't know existed in nature, but is also very unusual with flowers that rustle like paper.
Source: Thejoyofplants.co.uk