Enjoying the little things in life an bit more is one of my new year's resolutions. A visit to a flower shop is for me a great experience and a true little moment of happiness. Therefore I will show you at the beginning of this year a few floral hotspots in the Dutch capital Amsterdam.

Also read: The 5 most extraordinary urban plant shops in The Netherlands
Experience
It is overwhelming to see how much choice you have in the shops. With personal attention for the visitor, florists take us by the hand and stimulate all our senses. Music, scent, colour, light and taste: everything has been considered. There is an abundance of flower arrangements for private as well as commercial sales, wow. The florist tour in the Dutch capital Amsterdam was a true experience.
To visit many florists at one day with was impossible. I could entertain myself for hours in one shop. So, the day was quickly filled with a tour by (only) four special florists in Amsterdam.
Hotspots
From Wildernis, which promotes a green city to the magnificent flower creations at Menno Kroon and the abundant flowers at Pompon and Ivy. All the shops offer a special, colourful and green world, making you forget your daily routine for a while. I was entranced by all this beauty. It is as if you enter another world in each shop. Back on the street, you're glad to be able to take a piece of this experience home or offer it to someone else.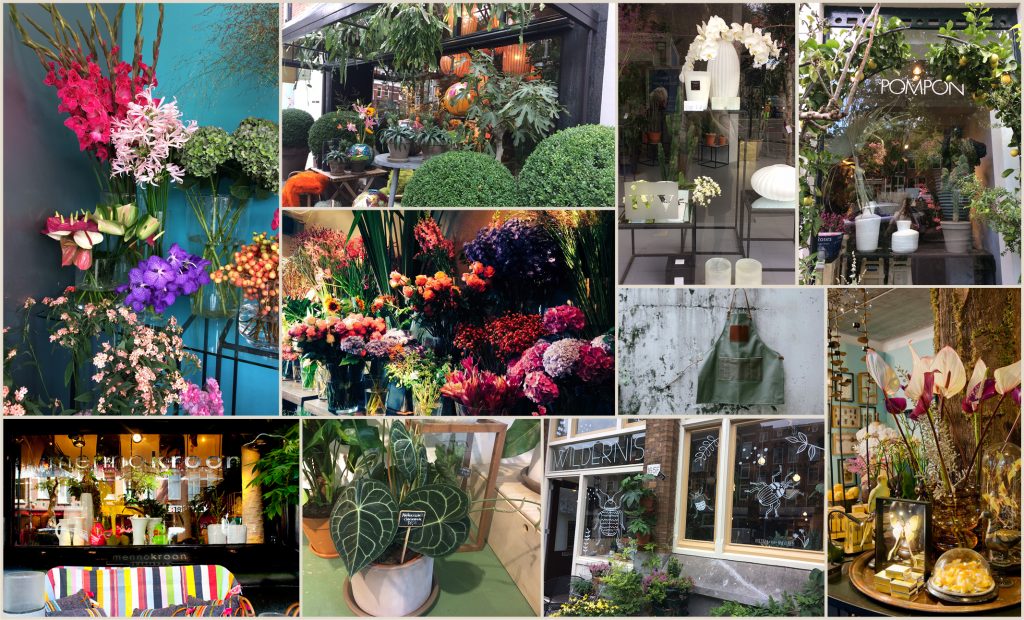 This is just a compilation. If I can give you one tip, take a look yourself, you will be totally happy.
One hotspot that now is missing in this list is The Wunderkammer, perhaps save the best for last ….. but my day was too short. I'll certainly visit it this year. To be continued …..
Do you have a tip of yourself? Send me a message or share it on social media with #bloomupyourlife.