Since a citytrip isn't complete without a visit to a plant store, we're looking for the nicest ones. Today's turn is The Hague, the political heart of The Netherlands. That may sound a bit boring, but the city is full of beautiful shopping streets, cozy coffee shops and nice restaurants. In this article you'll find the best urban plant shops in The Hague. Have fun!
Also read about the nicest urban plant shops in: Amsterdam, Leiden, Rotterdam and Utrecht
Urban plant shops in The Hague
About Flowers
About Flowers is a modern flower shop, located in a beautiful 19th century building. They sell flowers and house plants, and offer flower arrangements for various occasions and interiors. You can also go there for home accessories, such as ceramics and glassware. Nice to know: About Flowers is affiliated with the Barometer Sustainable Florist; an independent and official quality mark with which a florist demonstrates that the range of flowers and plants and the business operations in the store are more sustainable.
About Flowers, Korte Houtstraat 14, The Hague
Dit bericht bekijken op Instagram
Blossom Bloemisterij
Blossom Bloemisterij is located in the center of The Hague, and has a large assortment of bouquets, houseplants, and special cacti. Think of the Aloe Vera, palms, and various hanging plants. Are you looking for a specific houseplant? Chances are that you will find it at Blossom Bloemisterij, and otherwise they'll be happy to order it for you. Do you want to buy a large plant, but have no idea how to get it home? You can order large green plants and have them delivered at home, complete with a plant pot.
Blossom, Turfmarkt 238, The Hague
Dit bericht bekijken op Instagram
Filya Indoor Garden
Filya Indoor Garden is a plant store slash urban jungle. You can't leave this store without buying anything, it all looks so beautiful! Every week new and carefully selected plants come in, from all over the world. This is the right place for advice too, whether it's about plant care or the most suitable plant for your home. You can also buy cool interior items and plant accessories, such as plant books, pots and potting soil.
Filya Indoor Garden, Fluwelen Burgwal 1F, The Hague
Dit bericht bekijken op Instagram
Lola Viola
Lola Viola is a colorful store in the center of The Hague. You can buy house plants, fresh flowers, dried flowers, garden plants, vases, pots, flower bulbs and candles, among other things. The flowers come from the auction and the assortment changes daily. You can compile a bouquet yourself, get advice on this, or choose a ready-made bouquet. Workshops are also given every Wednesday from 12:00 to 14:00 and Sundays from 11:00 to 13:00. Reservations aren't required, you can just walk in and join! The workshops cost €10 per person and have a different theme and materials every week.
Lola Viola, Boekhorststraat 97c, The Hague
Dit bericht bekijken op Instagram
Plantenasiel Piekfijn
A plant shelter isn't a real plant store, but a place where you can buy second-hand plants. It's a sustainable way to have plants. Plant shelter Piekfijn collects discarded and neglected house plants. After a while of care, the houseplant can be bought for a small price. You can also buy or exchange seeds, cuttings and seedlings at the shelter. Are you interested in this? Then make an appointment via the Facebook page.
Plantenasiel Piekfijn, Mient, The Hague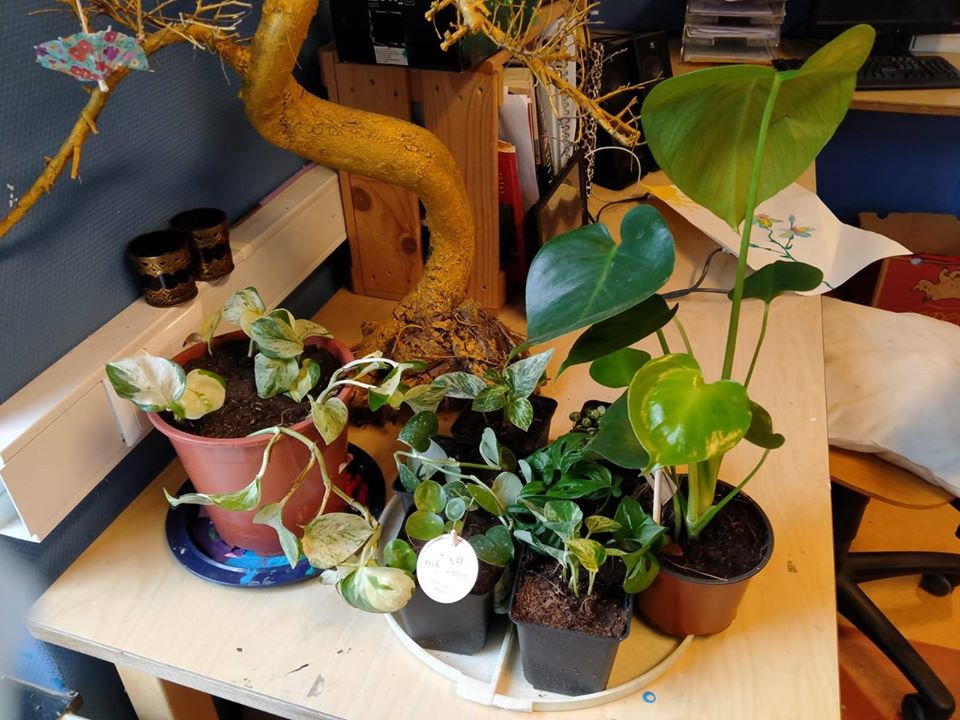 Also read: The 5 most extraordinary urban plant shops in The Netherlands