Flowers and cosmetics are a great match. We all know the senses of flowers from perfumes and now there are even amazing flower lipsticks with one extra magic feature that will make them your next favourite make-up product!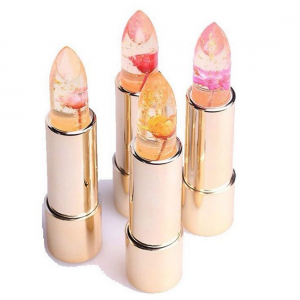 A couple of months ago the internet went crazy about these super cute clear lipsticks containing specks of gold flakes and a tiny flower right in the centre from the Chinese brand Kailijumei. These fantastic new beauty gadgets are so popular that they sell out immediately each time they're restocked, although they are kind of pricey ($ 33 – $ 40). The good news for all beauty lovers of Europe is that Winky Lux comes with an affordable version with real chrysanthemums inside. The best news: it will be available on Asos! I think they look almost too cute to use. However, they have one special feature, why you absolutely should.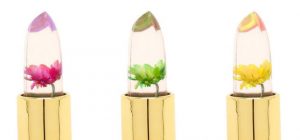 Abracadabra: customized shade just for you
We all know that the hardest thing about buying lipsticks is finding the right colour that matches your skin. With these lipsticks you don't have to bother about this anymore. They go on clear and then the magic happens.
The colour of the original Kailijumei lipstick changes depending on the temperature of your body, offering a natural, but glossy pink shine. How cool is that! The Winky Lux flower balm is no less than the original since the colour develops to a unique shade of pink that's perfect for your lips. It reacts with your skin's PH levels. So no more trouble finding the perfect shade of lipstick! To top it off they're also super hydrating, and will make your lips look smooth.