Bloomifique is evolving and we would love to tell you a little bit more about who we are and what you can expect at this new lifestyle inspiration blog.
As you might have noticed, Bloomifique is evolving. End of May we planted the first seed and started this adventure to show the world that a life without  flowers and plants is unimaginable. At Bloomifique we share the magnificent feeling given be these happy green friends with the world! Or, let's start modest Europe ;-). Our motto: Flowers and plants are suitable for everyone, go with every interior and brighten up your life! So Bloom up your life!

The next step!
We are already active on Facebook, Instagram en Pinterest  for some time now and that means it's time for the next step in order to germinate the seed further. Our own blog, an interior styling & lifestyle inspiration blog with a floral touch. You could think of it as a new floral interior and lifestyle inspiration paradise where you can find anything about flowers and plants that you want or need to know.
What to expect?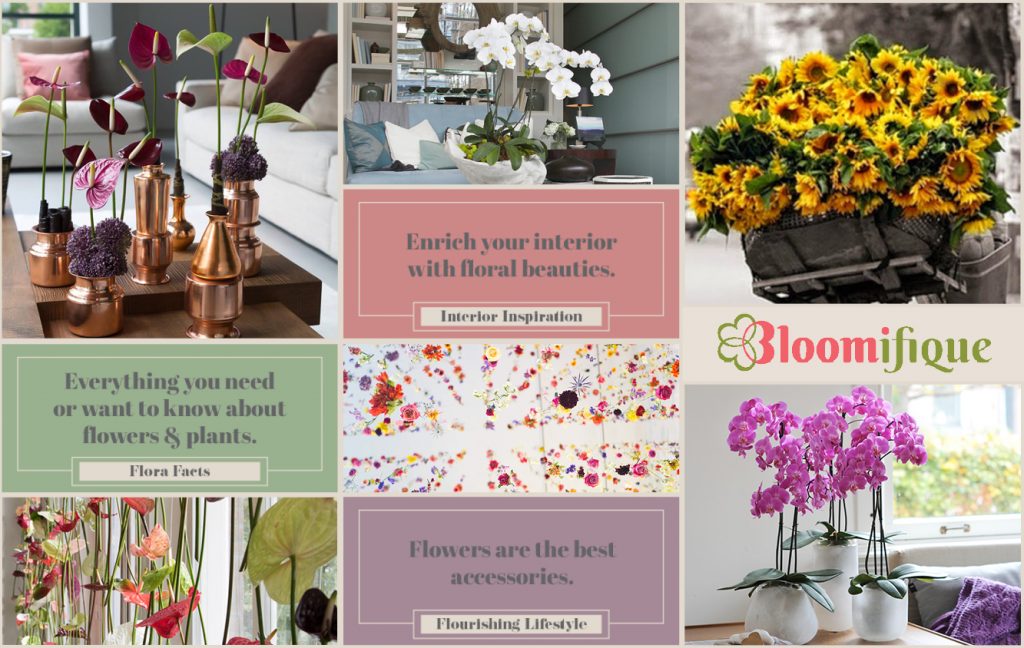 Of course you can find how you could use them as unique decorative eye catchers and styling items in your interior, but also how they could be natural boosters of your (mental) health for a happy life. Have you ever wondered why you are so relaxed after a great walk in the forest? Well that's partially because of being in nature. So why wouldn't we take nature inside a little more often with flowers and plants?
Naturally you will also find tips about how you can enjoy your green friends as long as possible and do we spot unique flourishing hotspots that shouldn't be missed on your bucket list. Besides that you will find creative DIY tutorials and inspiration to perk up every party as decoration or a gift.
To cut this long story short. Bloomifique will be a crowded, flourishing lifestyle blog with differing topics because they are able to colour your life in 1001 ways. We hope to inspire you and to infect you with the only positive virus in the world: the floral virus.
Do you want to blog with us?
We are always looking for enthusiastic writing talents with a passion for flowers, plants, interior styling, fashion or traveling. Do your want to blog with us? Leave a message.